Merlin publishes Il-Professur Għasfur fl-Ispazju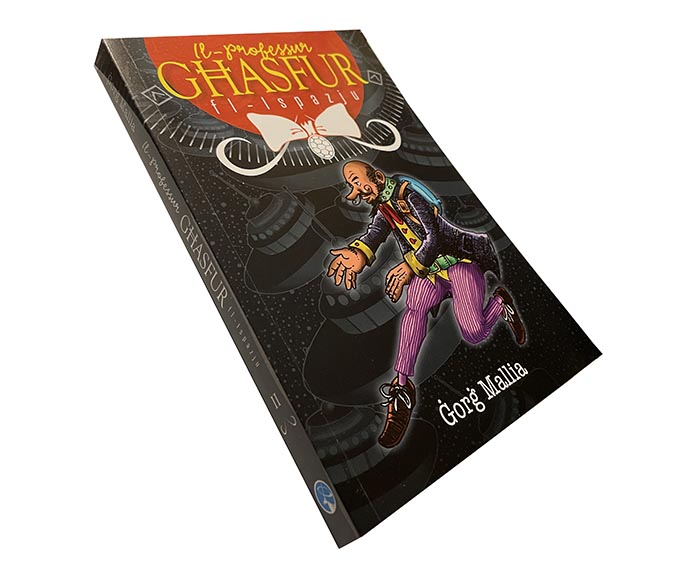 After the character of that eccentric inventor, Il-Professur Għasfur (Professor Bird) proved to be very well liked, to the point where the full edition of the first book about him, published by Merlin Publishers in 2015, sold out and was reprinted, and reprinted yet again in 2022, the same publishers announced in January, 2021, the publishing of the second book in the series, Il-Professur Għasfur fl-Ispazju (Professor Bird in Space), written and illustrated by Ġorġ Mallia. The book features a new narrator, another scientist, and the same old inventor and his tortoise. And this time around it's not inter-dimensional hopping that they do, as they did in the first book in the series, but a hop into space to stop aliens from (what else?) destroying the world. A wonderful, science fiction romp that is sure to prove as popular as the Professor's first adventure. You can read more about this book HERE.
Klabb Kotba Maltin has published Ġorġ Mallia's collection of a hundred microstories, each based on a different character, Mitt Ruħ (A Hundred People). The 214-page book, containing some of the writer's best work, is also illustrated in line drawings of each of the individuals depicted in the stories. 50 numbered and signed hardbound copies were also published, which were snapped up in the first week after the publication.
The blurb inside the back cover of the hardbound copies reads: "The microstories in this book are windows on the lives of a hundred persons. The stories themselves show the characters in this collection, although then, in a cycle that never ends, the characteristics of the protagonists themselves are what feed the story. These microstories are first and foremost about the emotions of the persons named in each title. About what they feel as they struggle with life. Almost all of these characters have been hurt by life, crushed, broken, destroyed ... even where the experience is not bitter ... and there is a number of stories that look at the sunny side of life, or the humorous side ... there is also the experience that changes and instigates change. Each of the microstories in Mitt Ruħ was written at one go. It was not the first time that the idea of a character was not fully formed in my mind as I started writing, but once I started, the story told itself. I must admit that writing is a balm to me. It goes down like honey. It removes the blindfold of darkness that often descends like an ugly veil over my feelings. Writing remains my main art, and the Maltese language is the oil that lubricates the thought ... expressive in the turn of its metaphor, in the sound of its expression, in its melody. A hundred stories about a hundred persons. I will stop here and leave each one of the hundred people that are in this book to speak for themselves."
The book is on sale from all bookshops (physical and online), or directly from Midsea Books themselves.
Postponed Artist's Talk given on July 7, 2020
The talk about the Rhapsody-in-Pain paintings that was postponed because of the Covid-19 Pandemic restrictions, was finally held on July 7, 2020 at 111 Art Gallery ta' Xbiex. The inspiration for the paintings, the techniques used and the explanation of some of the paintings were all part of the talk, which was very well received. This brought the Rhapsody-in-Pain project to a close.
L-Avventura Msaħħra ta' Melanie u Karl goes viral
The free e-book written in March 2020 by Ġorġ Mallia specifically for children stuck at home because of the Covid-19 pandemic closure of schools has gone viral. Teachers have recommended it, school Facebook pages and websites have run pieces about it and parents have been writing in with success stories about children loving it... even those who are usually reticent to read. And adults are actually reading it and enjoying it too. The press, including The Times of Malta, The Malta Independent, Newsbook as well as tv news on the national station PBS have run features about it (see Press Page for details). By popular request, an English translation of the adventure book was posted online in time for World Book Day, on April 23. It found itself on several international reading lists, and, in total, over a 1000 gigabytes of downloads were registered.
Solo exhibition of digital art announced
The exhibition is made up of 24 framed prints (20 at 40x50cms and 4 at 50x70cms), each of which has a limited edition of just 3. These works form part of the Rhapsody-in-Pain series of 37 digital abstracts with pen and ink figures that are described as "manifestations of a soul in pain... a soul that was shredded by loss and that still seeks a path out of torment. They are cathartic extensions of the scream that rises and falls in darkness and looks for relief that does not come, but still hopes that it will eventually be silenced. These are visual poems, a momentary emotional release that relapses all too often and with an intensity that does not wane, no matter how much time passes." The exhibition is being held at 111 Art Gallery, 38/40, Triq il-Ġnien, Ta' Xbiex, Malta. The opening is on March 6 and the exhibition will remain on till March 20.
ICICTE 2019 held in Chania, Crete – 4 to 6 July, 2019
The 19th conference in the series of International Conference on Information, Communication Technologies in Education (ICICTE) of which Professor Ġorġ Mallia is one of the organisers, took place at the Minoa Palace Resort in Chania, Crete, between the 4th and 6th July, 2019. This was another very successful conference in which Ġorġ Mallia was an active participant. He introduced the conference and both keynote speakers, moderated one plenary session and led the very exuberant Philosophers' Cafe. Professor Mallia also closed the conference (see photo below).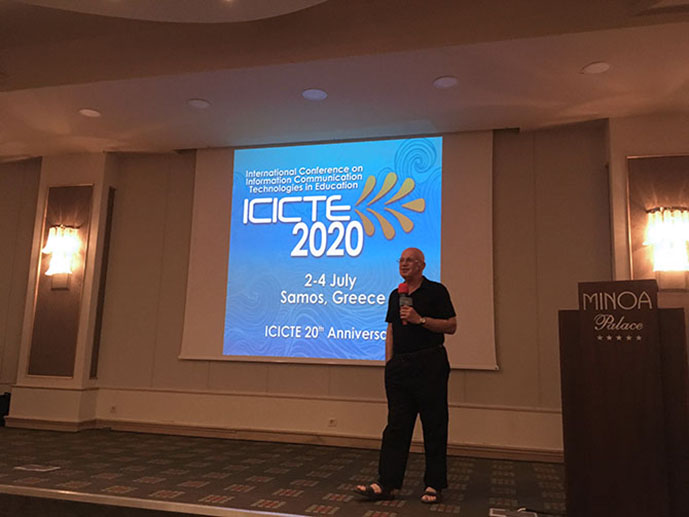 Exhibition of Tribute Portraits at Jäger & Jansson Galleri, Lund, Sweden
A selection of thirteen portraits done as a tribute to celebrities who died throughout 2016 and 2017, and others who had anniversaries of their death, is being exhibited at the Jäger & Jansson Galleri in Lund Sweden. This is part of their Christmas Exhibition (or Julsalong) and includes a number of established as well as up and coming artists. The portraits are done in pen and ink (actual or digital) and then have either spot of full computer colouring. The exhibition had its opening on Saturday, December 16 and stayed open till January 7, 2018.
A group photo of the delegates and speakers at the Directors General of Higher Education meeting held in Malta in March, 2017. Dr Mallia is in the front row, third from left.
Directors General of Higher Education Meeting
Dr Ġorġ Mallia participated in the Dirctors General of Higher Education Meeting, held as part of Malta's EU presidency. The two day meeting was held on March 13 and 14, at the Dolmen Hotel, Qawra. The theme of the meeting was "Pursuing Digital Technology in Higher Education".
Dr Mallia gave a talk on Learner centred education and then led a lively workshop about the subject.
Dr Mallia's participation was invited by Ms Edel Cassar, chairperson of the meeting.
Sigurd and the Tree of Life
Ġorġ Mallia's latest children's book is in English, and draws visually on the Scandinavian "tomtenissar" (Santa's elves) that are so popular as decorations over the Christmas season.
But there's nothing Christmasy about Mallia's Sigurd and the Tree of Life, as it's a tale that involves the last wizard on Earth searching out the tree of life before a poison that's been fed into its roots kills it, and with it all of life in the world.
The book, aimed at children that are between eight and twelve years old, came into being when Mallia, well known for his cartoons and illustrations, drew a picture of the traditional "tomtenisse", lamp in hand, looking out at the reader. The "tomtenissar's" faces are usually hidden behind long hats and very long beards, with the nose peeking out. Mallia has stuck with this depiction of his characters, going for a puppet-like rendering of figures, populating the bare forests of the cold north.
In fact, Sigurd lives on the edge of one such forest, and is visited by the spirit of an ancient wizard who tells him of the danger to the tree of life. The rest of the book is Sigurd's dangerous quest (with evil wizards creating huge obstacles in his way) to save the tree.
There are quite obvious hints to ecology and the way the environment is slowly being corroded by those who are too selfish to think of the future, but this is a subtle, understood message in the story that creates a world full of wonders, dangers and a quest that needs to succeed.
Sigurd and the Tree of Life is published in hardback by Horizons, and is illustrated with nineteen full colour drawings by the author. It was launched at the 2016 edition of the Malta Book Festival.
The discussion panel on Online Defamation at the Dolmen Hotel, Qawra on February 26, 2016
Talk and discussion panel on Freedom of Expression and Online Defamation
On February 26, 2016, Dr Ġorġ Mallia, as Head of Department of Media and Communications, led a panel discussion following a talk by UNESCO Director of Freedom of Expression and Media Development, Professor Guy Berger. Professor Berger had been brought over by the Faculty of Media and Knowledge Sciences to give a research seminar to the staff of the Faculty. The talk on Online Defamation was given at the Dolmen Hotel in Qawra, in collaboration with the Tumas Fenech Foundation for Journalism Education. The panel discussion went into the pros and cons of criminal libel and the extent and nature of defamation, particularly in an age of social network diffusion.
The panel included, apart from Professor Berger himself, Professor Joe Cannataci (UN Rapporteur on the Right to Privacy); Mr Karl Wright (chairman of the Institute of Malta Journalists) and leading libel lawyer Dr Joe Zammit Maempel.
Il-Professur Għasfur
In June, 2015, one of Malta's best publishers, Merlin Publishers, published Ġorġ Mallia's first book for children in six years. The book, which he also illustrated with twenty three black and white cartooned images, introduced a new character to Maltese juvenile literature, Il-Professur Għasfur.
Merlin's official press release for the book reads as follows:
Ġorġ Mallia is a name intimately connected with the world of books and reading. A researcher, academic, author and illustrator, he is rarely far away from a book. Various other commitments have, however, kept him away from writing children's books, so his return to children's fiction this year is a very welcome comeback after a six-year break.
His new novel, Il-Professur Għasfur, is also his first with publishing house Merlin Publishers.
The book sets out to be a 'Gulliver's Travels' of multidimensionality, where an 11-year-old girl – Katrin – finds herself in the laboratory of a very peculiar scientist, nicknamed Professor Bird (il-Professur Għasfur).
Together with a very special tortoise, she ends up whizzing from one dimension to the next on board the professor's unique and experimental dimensional-travel platform. Each alternate reality presents a 'what could have been' version of the world, much to Katrin's amazement.
Even as the professor is intent on mapping all possible dimensions, the three adventurers find themselves in unexpected, sticky situations and need all their wits to find their way out and safely back home.
Mallia is a cartoon artist. Readers of Il-Professur Għasfur are also regaled with his illustrations for the book. Drawn in a cartoony style in lush blacks and grey, the 23 illustrations complement the writing, often adding detail to the many characters and contexts that is not evident in the narrative itself so that the words and drawings work hand in hand to tell the whole story.
Il-Professur Għasfur will not only appeal to fantasy and science fiction fans, but also to all those who like a fast-paced adventure story written in crisp contemporary Maltese. Il-Professur Għasfur is available from all bookshops or online.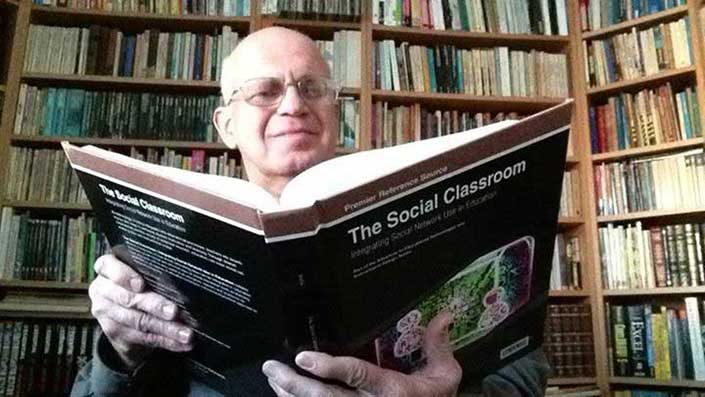 Reading a copy of The Social Classroom, a huge 570-page book that explores different viewpoints on using Facebook and other social networks in educational practice
The Social Classroom
Early in 2014, a collection of international papers exploring Social Media use in education were edited by Ġorġ Mallia and published as the book, The Social Classroom: Integrating Social Media Use in Education. The large book was published by the prestigious American academic publishing company IGI Global, of Hershey, PA. The book went on to be widely used as a reference work in this topical area of study, with quite a few universities around the world adopting it as a standard text.
A mini-website dedicated to the publication can be found HERE.
This was the description of the book provided by the publisher:
As technology is being integrated into educational processes, teachers are searching for new ways to enhance student motivation and learning. Through shared experiences and the results of empirical research, educators can ease social networking sites into instructional usage.
The Social Classroom: Integrating Social Network Use in Education collates different viewpoints on how social networking sites can be integrated in education. Highlighting both formal and informal uses of social interaction tools as learning tools, this book will be very useful to all educators, trainers and academic researchers in all aspects of education looking for a theoretical/practical approach to resourceful teaching.